Introducing Truly International, a series of competitions, interviews, events and more created to highlight our members and show what makes our organization Truly International. 
What makes Key Club Truly International? 
We want to highlight what makes our organization Truly International, and that includes sharing the stories of our members! Tell us your own or a fellow member's story for a chance to be highlighted on Key Club International's social media channels! Click here to share your story.
The Truly International campaign was started by the 2018-19 Key Club International Board to foster and promote inclusivity and connections with all districts and clubs worldwide. This is especially important because Key Club International is the largest student-led service organization, existing in 38 countries on six continents.
The campaign utilizes social media challenges, member highlights and merchandise sales to reach all members internationally. It includes the hashtag #trulyinternational, the Membership Experience Survey and the T-shirt contest. T-shirt designs can be submitted after the theme for international convention is announced, and Key Clubbers around the world vote on the designs. These designs will be available to everyone in the Kiwanis Family Store.
Truly International Member Highlight
Addie Flores- Texas-Oklahoma District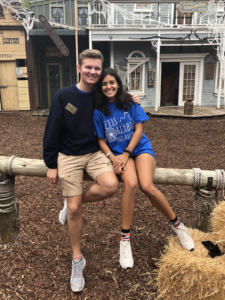 Immediate Past District Treasurer Addie Flores' favorite part of her Key Club experience is meeting members from diverse backgrounds and identities. She traveled to 2018 Key Club International convention in Chicago wanting to see other district officers that she met in the few short months that she was in office — and she did! She became close friends with members from the Alabama, Bahamas, and PNW Districts, just to name a few. Messaging those members after convention allowed her to learn and understand other cultures. She says, "Immersing myself in cultures across the globe has enlightened my understanding of other lifestyles and appreciation of my own traditions." 
Tanner Roe- Montana District
In 8th grade, Tanner Roe had one of his final surgeries and became very passionate about spreading awareness on Scoliosis and serving his small and tight-knit community to help promote a variety of causes.
At the end of his sophomore year, his friends convinced him to join Key Club, since they believed it was right up his alley. He immediately fell in love with the organization and ran for President of his home club. After being elected, Tanner attended his first District Convention and Key Leader and saw the true scope of Key Club International. Amazed, he realized he wanted to serve Key Club in a variety of ways, including as a district officer.
Tanner is now the Lieutenant Governor of Division 5 in the Montana District. Key Club's truly International Scale brought him here, aided his passion for service, and brought his community, club, and fellow members together.