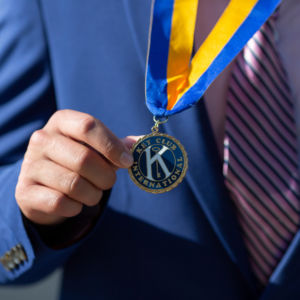 Preparing for graduation can seem overwhelming. In addition to finals, university or career applications — and a general feeling of uncertainty — you must also be sure you have everything you need before you graduate. We can't take your exams or fill out your forms, but we can help you (and your advisors) cut through the clutter as you prepare.
Here are five must-have items for your Key Club graduation: 
Graduation medallion – There is no better way to receive special recognition for your work as a Key Club member than with the official graduation medallion.  
Tassel – This Key Club memory tassel with a brass Key Club charm adds the ultimate finishing touch to any graduation outfit. (Advisors, it also makes a great keepsake gift.) 
Stole in gold or blue – Show off your pride as a Key Club member with this official Key Club graduation stole. It will also look great framed. 
Cord in white or blue – Completed all your Key Club member requirements? Don't forget to add a Key Club graduation cord to your cap and gown at your graduation. 
Jacket patch – Sew this patch onto your jacket or backpack to showcase your club spirit and commitment to helping others. 
Looking for gift ideas or items not listed above? Other graduation items, keepsakes (including pins) and bundles can be found in the Kiwanis Family Store.