Name: Lena Oswald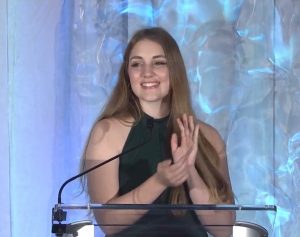 Pronouns: She/her 
District: Illinois-Eastern Iowa 
Key Club name: Morton, Illinois 
Year in school: Senior 
Clubs or activities outside of Key Club: Math team, theater, art, Peoria Teens Encounter Christ Lay Advisory Team 
Why did you join Key Club?
To make a difference in my community. I realized that Key Club's impact is even greater than I ever could have imagined. Throughout my Key Club experience, I've been able to expand my view of the world and truly change it. I've been involved in the Kiwanis family since I was young, going to Kiwanis meetings with my parents and assisting in service projects. Joining Key Club was the best decision of my life so far! 
Past Key Club International leadership experience: International trustee 2020-21, lieutenant governor 2019-20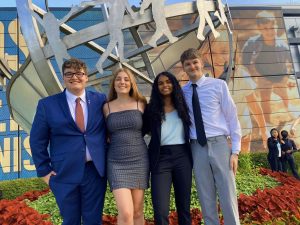 Why did you decide to run for the Key Club International board?
I had served one term as an international trustee already, and the chance to run again was such a blessing. At the end of the day, all I want to do is make a difference, and running for a second consecutive term as trustee allowed me to do that.  
What are you most looking forward to this year?
Connecting with governors and other Key Club members as we continue to serve our homes, schools and communities. I'm also incredibly excited to continue working with our new mental health partner Erika's Lighthouse.  
What do you like most about Key Club International?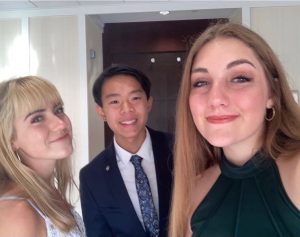 The ability to work and form relationships with people from all over the world. 
What is your favorite Key Club memory and why?
When I was first elected as a lieutenant governor for the Illinois-Eastern Iowa District, I attended our January board meeting for training as a lieutenant governor-elect. I was still a nervous, insecure freshman, and I was scared — but the first night of that board meeting, something changed. I remember making the conscious decision that I was done hiding and being timid, and I decided that I would truly be myself. I went out and made friends, many of whom are some of my closest friends today. Key Club helped me find the best version of me.  
Miscellaneous information  
What is your career ambition? I want to be a professional architect.  
Hobbies outside of Key Club: Art, listening to music, thrifting, hanging 
Favorite movie or TV show: "Arrested Development" 
Favorite book: "Salt to the Sea" by Ruta Sepetys 
Favorite food or snack: Pumpkin bread 
Favorite animal: Dogs 
Somewhere you would like to visit: Italy 
Do you collect anything? I have way too much Key Club merch, but my favorite is my collection of  vintage pins from my dad's term as Illinois-Eastern Iowa governor in 1994. 
What is something people may not know about you? I work as a barista at a local coffee shop. 
What is the best advice ever given to you? You decide who you want to be. The only way to be who you want is to start being who you are.  
What did you want to be when you grew up? I've wanted to be an architect since I was 10, and I'm hoping to study it in college.