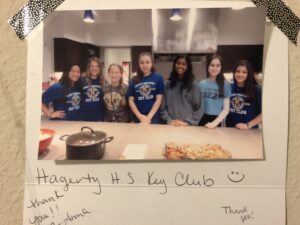 Name: Sana Yooseph.
Pronouns: She/her.
District: Florida.
Hometown: Oviedo, Florida, United States.
Key Club name: Hagerty High School Key Club.
Year in school: Senior.
Clubs or activities outside of Key Club: Service chair of the City of Oviedo Youth Advisory Council, president of Education Rocks Club and third-year child sponsor, vice president of Math Club, Science Olympiad, Science and National honor societies.
Why did you join Key Club? As a freshman, I joined Key Club because I heard great things from my
older sister, who is one of my biggest role models. After my first trip to the
Ronald McDonald House as a volunteer cook, I developed a passion for
serving the community through Key Club.
Past Key Club International leadership experience: Freshman class director, club chair of the Ronald McDonald House Committee, Division 10A lieutenant governor, chair of the Florida District's International Relations and Partners Committee.
Why did you decide to run for the international board?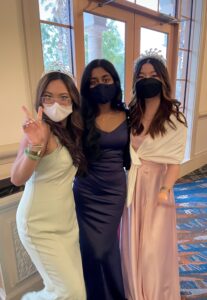 I was inspired to run for international board after my term as lieutenant governor. After organizing wild districtwide events like the 12-hour Eliminate Telethon (complete with spicy pepper challenges, dying our hair blue and our governor jumping in the pool at midnight), I realized just how fun service could be. I want to encourage Key Club member engagement by fostering enthusiasm to serve. When I ran for the international board, I had many goals, but one of my biggest priorities is connecting with Key Club members by planning engaging, interactive events where we can exchange ideas, have fun and contribute to incredibly valuable causes such as the Thirst Project. Put simply, I ran for international board because I wanted to maximize my impact, and I am so excited to start working with you all!
What are you most looking forward to this year? 
I am most looking forward to forging friendships across Key Club International, especially building strong bonds within my districts.
What do you like most about Key Club International? 
I love how Key Club has so many levels with specific purposes. This organization helps maximize our impact as a youth service organization, and as a member, there's always potential for growth. I am also very passionate about global service, so being able to work with organizations like UNICEF and the Thirst Project is a dream come true!
What is your favorite Key Club memory and why? 
I am a lifelong stress baker and being able to cook for other people has always been a joy of mine. Through Key Club, I had the opportunity to share that passion with the people of the local Ronald McDonald House. Whenever I planned these dinner menus, I always tried to appeal to the young audience by making exciting, delicious dishes. One night, the team from Hagerty Key Club came early and spent hours making a beautiful ratatouille, using the recipe straight from the popular Disney movie. The best part of the night was when a patient's mother said he'd come down just to try the famous ratatouille. When we started talking, he showed us his loyal stuffed animal, and it was none other than Remi, the brilliant rodent/chef from the movie. That coincidence made us all feel incredibly fulfilled, because our simple vegetable ratatouille had done just what it was meant to do: It made someone happy. It's now become a tradition: Every time Hagerty Key Club cooks at the Ronald McDonald House, we always make ratatouille, even just as a side dish. That night is my most cherished Key Club moment.
What is your career ambition? I plan to enter the medical field, with the ambition of becoming a surgeon.
Hobbies outside of Key Club: I love to practice henna art, cook new recipes, read books (mostly thrillers and rom-coms) and watch teen dramas from the 2000s (including "One Tree Hill," "Gossip Girl" and "Dawson's Creek."
Favorite movie or TV show: "Sisterhood of the Traveling Pants."
Favorite book: "People We Meet on Vacation" by Emily Henry.
Favorite food or snack: I love eating snow cones but without any flavoring, so basically just finely
crushed ice.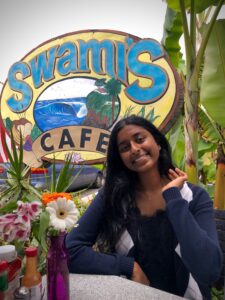 Favorite animal: Panda.
Somewhere you would like to visit in the future: 
I would love to visit Turkey for the historic mosques and beautiful scenery.
Do you collect anything? I've collected a really weird item ever since I was a child, but this collection makes no sense without extensive context. Feel free to contact me, and I'll reveal the secret collection.
What is something people might not know about you? 
I was a competitive gymnast for eight years, but I had to give up the sport after a string of injuries (including a concussion, which I am convinced made me a little bit smarter).
What is the best advice ever given to you? 
Knowledge is one of the most valuable pursuits.
What did you want to be when you grew up? 
I wanted to be a librarian, professor or Olympic gymnast when I was
younger.
Anything else you want to share? I am so incredibly grateful and excited to begin this journey on the international board. If you ever need anything or just want to say hello, my door is always open.