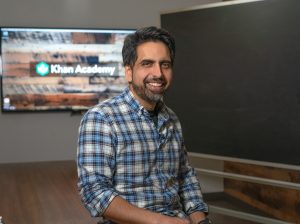 Meet Sal Khan, one of the featured speakers for the 2022 Key Club International Convention. Khan is the founder and CEO of Khan Academy, a nonprofit with a mission to provide a free, world-class education for anyone, anywhere. He is also the founder of Khan Lab School, a nonprofit laboratory school in
 Mountain View, California, and Schoolhouse.world, a new nonprofit he started during the pandemic to offer free tutoring over Zoom.
Sal lives in Mountain View, California, with his wife and three children. His interest in education began while he was an undergraduate at MIT. While there, he developed math software for children with ADHD and tutored fourth and seventh grade public school students in Boston. He also taught test prep courses for the MCAT and was named Teacher of the Year by a national test prep company. 
He holds three degrees from MIT and an MBA from Harvard Business School. He has been profiled by "60 Minutes," featured on the cover of "Forbes" and recognized as one of TIME's 100 Most Influential People in the World. In his book, "The One World Schoolhouse," he outlines his vision for the future of education, ideas which are the basis for Khan Lab School. 
In his virtual address, Khan will share insight into how the pandemic has impacted your life (and how to bounce back), mastering the skills you most need to know, how to take charge of your learning experience, the benefits of silver linings and more. 
Registration for the Key Club international convention opens soon. Don't miss out!