As graduation approaches, a Key Club International trustee reflects on what the experience has given her.
by Ava Stamatakis, Key Club International Trustee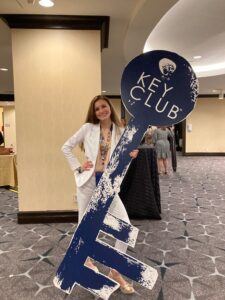 "Why do I exist?"
My eyebrows furrowed in bewilderment as my 4-year-old self pondered the greatest existential question of life. I was an inquisitive, imaginative child whose naive mind often sought answers to the reservoir of questions that flooded my brain.
My mom chuckled. "Well, no one really knows for sure. That's what life's for: to figure out why we're here."
Disappointed with my mom's unfulfilling response, I stored our conversation away in my mind. As I grew older, I continued to explore the metaphysical world, and I revisited our conversation to try to find a satisfying reason for why I existed. I found the answer in a series of unlikely places.
First: a high school cafeteria. It was my first Key Club meeting. Caught in the center of the inspiring chaos of 300 hands making blankets for hospitalized children, I became energized. My hands dissociated from my body as they fell in sync with everyone else's. My productivity meant one more child could be cared for; I knew I owed it to that nameless person to work harder.
Second: knee-deep in a pile of mulch. After months of planning, students from Key Clubs across Virginia joined me in a service project to prepare a garden that would provide sustenance to teenagers in need. I watched as they joked and conversed like they had known each other their entire lives, united by a common goal. I realized that they were benefiting from serving, too.
Third: a ballroom stage. Looking out into the crowd of hundreds, I spotted Key Club members from Colombia, Barbados, California and South Dakota. I was asking for their vote of confidence in my servant leadership. Their trust resulted in my election to an international position, allowing me to expand my service to more student leaders and people in need.
In these three moments, the hallmarks of my unforgettable experience as a member and officer of Key Club International, I realized that for all the service I've done as a part of this organization, Key Club has given me so much more. It's given me an extended family. It's given me opportunities to be a part of something larger than myself. Most important, I no longer have to ask my mom why I exist — because Key Club has given me an answer. It's given me my life purpose: to serve.