An Illinois Key Club revamps a decades-old fundraiser to match a modern student population. 
By Julie Saetre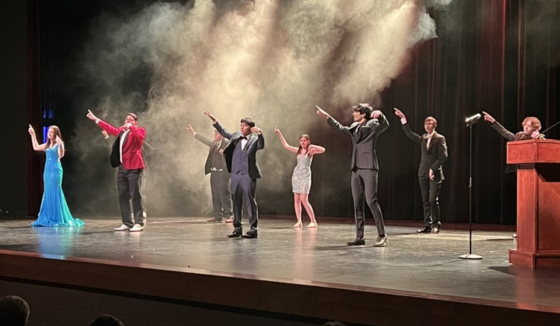 In the late 1980s, the Key Club at Batavia High School in Illinois, U.S., began a fundraising campaign that became a longstanding tradition: Mr. Batavia High School, known as Mr. BHS. This mock beauty pageant for males raised funds for what is now called the Kiwanis Neuroscience Research Foundation (KNRF), which provides financial grants to top-level researchers specializing in central nervous system diseases. The KNRF is the Kiwanis Illinois-Eastern Iowa District's main focus. 
"Since the district is the main contributor to this foundation, it has always been something important to us," says Marnie Heim, the Key Club's school advisor. "If we stop donating, what would become of it?  
"We also liked that it is specific to Illinois, so we were able to make a big impact. Also, my students have always loved going to (district) convention and meeting the people who receive grants to do research — and they only receive the grant because of the fundraising we do. They see the direct impact of their efforts." 
But when the COVID-19 pandemic hit shortly after the Mr. BHS 2020 event, in-person fundraising events abruptly stopped. In 2021, students returned to the classroom, but Mr. BHS no longer seemed a good fit for a variety of reasons. Students proposed several alternatives, but none of those ever developed past the idea stage. By the first semester of 2022, students that were then seniors had been freshmen when the club last hosted Mr. BHS. 
"They wanted it back. They wanted more of our school traditions," Heim says. "They were longing for normalcy. How could we make Mr. BHS work again? It needed to be all-inclusive, not restricted to one gender. And it needed to be celebratory. Enter Top Dog." 
Named after the high school's bulldog mascot, Top Dog maintains some elements from its Mr. predecessor. The KNRF still receives the proceeds, student participants wear formal wear for the event's Q-and-A session, and a talent portion remains. But the event now welcomes any student who wishes to participate, and a costume/skit section has been added. 
The revamped fundraiser debuted in January in front of a mainly student audience. Teachers served as judges and evaluated stage presence, creativity, a demonstrated connection to music and interaction with the audience and emcees. Participants also gained points for the amount of money raised for the event. 
"This year," Heim says, "we had a female student dress up and impersonate Pitbull. We had students lip-synching to current radio hits, and we had magicians. We also had speed painting as a talent. Where else in high school do kids get to do fun stuff like this?" 
The 2023 Top Dog winner made history: For the first time in over four decades, a female took home the title. Equally impressive, the event raised over US$3,000 for KNRF. 
"And we got our name back out there," Heim says. "We have a date booked for 2024. We already have kids talking about the event, which will help us get more people in attendance next year, so we can make even more money for this important cause."