Key Club has seen a lot of history in its 95 years. We began with a single club and its 11 members. Today, we've got 270,000 members worldwide, thanks to the hard work and dedication of student leaders like you. We are proud of our growth over the years and grateful to all of you who have made it happen.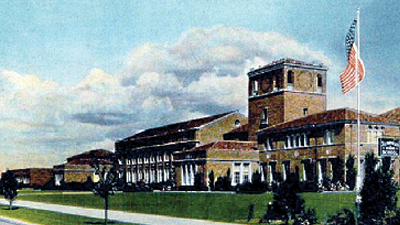 The first Key Club formed in 1925 in Sacramento, California, with 11 charter members. Key Club was the idea of two Sacramento Kiwanis Club members, Albert C. Olney and Frank C. Vincent, who also were high school administrators. They approached their Kiwanis club with the idea of starting a junior service club in the
high school. It would resemble Kiwanis, have its own classifications based on school interests and hold luncheon meetings.
The club was comprised of the key boys in the school, willing to serve the school in any way possible and to create better school spirit. Thus, the club was dubbed Key Club. Soon, the club that started out as a vocational guidance program expanded to become a complete service organization for the school. It also offered a social aspect to balance its service activities. Today, Key Club is the oldest and largest service program for high school students in the world.
TIMELINE OF EVENTS
1925:
The first Key Club is chartered in Sacramento, California, with 11 charter members.
First issue of "New Yorker" magazine is published.
"The Great Gatsby" by F. Scott Fitzgerald is published.
1927:
Sliced bread is invented.
1939:
Florida association forms, becoming the first Key Club district.
Batman makes his first appearance in a comic book.
1943:
The Key Club movement achieves "International" designation. Delegates to the first Key Club convention formally vote to form the InternationalAssociation of Key Clubs, electing Malcolm Lewis the first president.
The first Golden Globe Awards, honoring the best achievements in 1943 filmmaking, are held in late January 1944 at the 20th Century Fox studios in Los Angeles, California.
1944:
The first annual Key Club Convention is held in Gainesville, Florida.
Ballpoint pens go on sale.
1946:
The first Key Club Week is observed.
UNICEF (the United Nations Children's Emergency Fund) is founded.
The official publication of Key Club International, the KEYNOTER, is first published.
1952:
The 1,000th Key Club is chartered at Southfield High School in Detroit, Michigan.
The first Mr. Potato Head toy is sold.
Elizabeth II becomes the Queen of England.
1976:
The first Key Club outside the United States and Canada is chartered at Nassau, Bahamas.
Apple Computer Company is formed by Steve Jobs and Steve Wozniak.
1977:
Female students are admitted into Key Club.
Star Wars opens in cinemas and later becomes the historic highest grossing film for that time.
1991:
Michelle McMillen of the Missouri-Arkansas District becomes the first female member to be elected Key Club president.
Internet is made available to unrestricted commercial use and number of computers on the net reaches 1 million.
1999:
Key Club membership tops 200,000.
The popular long-running animated children's comedy TV series SpongeBob SquarePants airs on Nickelodeon.
2010:
Key Club exists in 30 countries, with membership of more than 250,000.
Apple iPad first goes on sale.
2015:
During its 90th year, Key Club exists in 35 countries, with a membership of more than 270,000.
NBC's Saturday Night Live has been on the air for 40 years.
2018
Since the launch of The Eliminate Project with UNICEF in 2010, maternal and neonatal tetanus has been eliminated in 24 countries.