Name: Emily Leonard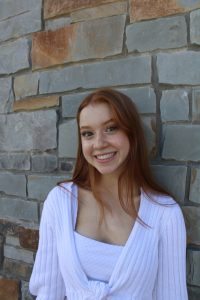 Pronouns: She/her  
District: Rocky Mountain  
Hometown: Niwot, Colorado  
Key Club name: Peak to Peak Key Club  
Year in school: Senior  
 Clubs or activities outside of Key Club: Competitive dance, Chamber Honors Orchestra (violin), Science National Honor Society leadership council, National Honor Society, Student Council cabinet, PAC leader, surgery center intern.
Why did you join Key Club: My Key Club journey started when I attended my school's club fair and signed up. Although at the time I had no idea that I had truly found my home, I am eternally grateful for the loving and inclusive environment that drew me in.
Past Key Club International leadership experience: I served on my district board for two years while maintaining high involvement within my home club. I served as Kiwanis family and club building chair and then served as district bulletin editor. I cannot wait for what this service year as an international trustee has in store. 
Why did you decide to run for the international board: Ever since I learned about the international level at my first district convention, it has been my biggest aspiration and dream. Getting involved on an even larger scope in doing what I love on an international level has always been fascinating to me.
What are you most looking forward to this year: I'm looking forward to meeting so many new people from all over the world and serving as a liaison in spreading my love and passion for this spectacular organization.
What do you like most about Key Club International: I love that I am able to communicate with so many different people and work on an international scale to make the world a better place.  
What is your favorite Key Club memory and why: My favorite Key Club memory would have to be my experience at the international convention in Baltimore, Maryland. I had the best time with my district board and got to meet so many new people who all had a similar mission and passion for service as I did.  
Miscellaneous information 
What is your career ambition: Dermatology 
Favorite movie or TV show: "Pitch Perfect" 
Favorite book: "Atomic Habits"  
Favorite food or snack: Fruit Roll-Ups  
Favorite animal: Dogs  
Somewhere you would like to visit in the future: Switzerland  
Do you collect anything: Key Club pins  
What is something people may not know about you: I am 50% Persian. 
What is the best advice ever given to you: The best piece of advice I've ever received was from my ACT tutor. She requested that I post positive affirmations all over my workspace, and I can successfully say this has changed my mind set for the better.