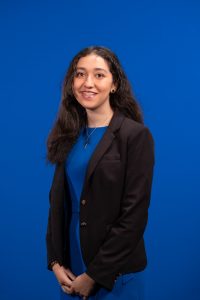 Name: Salma Eldeeb
Preferred pronouns: She/her
Home district: Florida District
Year in school: 12
Name of home Key Club: Spruce Creek High School
About Salma 
My career ambition is psychiatry, but my hobbies include writing, painting, reading and biking. My favorite book is "The Secret History by Donna Tartt." I hate cheese, and my favorite food is shawarma. This year, I'm most looking forward to helping Key Clubs transition back to in-person service.
Why did you join Key Club? 
I was introduced by my sister to the organization and stayed because of the wonderful people and environment.
What is your favorite Key Club memory? 
Playing cards on the floor with fellow newly installed lieutenant governors at my first-ever district convention.
What's the best advice ever given to you? 
Be your biggest fan, not critic.