A Key Club International trustee reflects on where his service journey has taken him.
by Drew Reetz, Key Club International trustee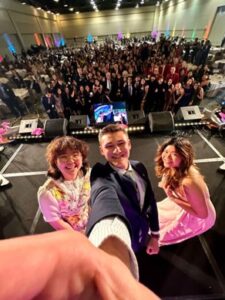 Never in a million years did I think I would get to where I am today. I remember when I was just a freshman, still a general member, watching all these "crazy Key Clubbers" go to their dream schools and travel the world. Although it sounded far-fetched, it was never out of reach.
I became South Dakota's first-ever international trustee and made it to Columbia University in New York City (go Lions!), but one thing I will admit is that it was never easy.
I am from a town of fewer than 2,000 people. The closest Chick-fil-A is two hours away. My class size is 35, and no one from my state had ever run for international trustee, let alone won. I had to work hard for everything — break barriers and do things no kids from my entire town or state had ever done.
And yet, if a kid from the middle of nowhere can somehow be living life to the fullest and achieve his dreams with the help of Key Club International, then I know all of you are capable of anything you set your minds to, inside or outside of this organization.
Please trust me when I say that it does not matter where you are from, how old you are or what resources you have available — you can truly do anything. Do not be afraid to do something you know for a fact you want to do; before you know it, that opportunity will have passed.
In the Star Wars franchise, Han Solo always says, "Never tell me the odds." That is the exact mindset we need to live by from here on out.