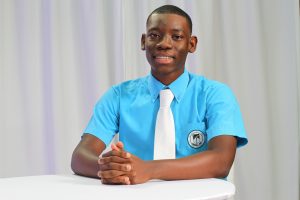 Name: Anton McDonald
Pronouns: He/him
District: Bahamas
Hometown: Nassau, Bahamas
Key Club name: Aquinas College
Year in school: Senior
Clubs or activities outside of Key Club: Red Cross Junior Achievement, AVP Human Resources Business Club (outgoing vice president), incoming president Zonta Club, UNESCO Eco Club, Aquinas College Marching Band, Bahamas National Youth Orchestra, Aquinas College String Ensemble, Aquinas College Concert Band, Aquinas College Pop Band, Male Empowerment Programme, Deputy Head Boy for Aquinas College, competitive golf
Why did you join Key Club: I joined because I was passionate about service. It was only my second year at my new school, and I decided that it was time for me to meet new people and make friends.
Past Key Club International leadership experience: Lieutenant governor 2019-20, district bulletin editor and treasurer 2020-21
Why did you decide to run for the international board: To bring change and advocate for diversity.
What are you most looking forward to this year: Seeing change, meeting new people and using my platform to inspire in ways I haven't before.
What do you like most about Key Club International: The way it can inspire young people to become leaders and bring change.
What is your favorite Key Club memory and why: The 2019 Key Club International Convention in Baltimore, Maryland. It was an experience that changed me and introduced me to so many new things. I always searched for a "why." I was struggling to figure out what I wanted to do and what direction to take in my life. I found my passion: to inspire people in anything and everything I do. It's one of the main reasons I'm on the Key Club International board today. It was also really fun! The bonds I made and the people I met will forever be cherished.
Miscellaneous information 
Career ambition: Professional golfer
Hobbies outside of Key Club: Music, golf
Favorite movie or TV show: Suits
Favorite food or snack: Chicken
Favorite animal: Dogs
Somewhere you would like to visit in the future: Africa
What is something people may not know about you: I sing and dance a lot. I'm a bit old school.
What is the best advice ever given to you: No matter how big your dream is, it's all about work ethic.
What did you want to be when you grew up: Athlete, computer programmer
Anything else you want to share: My passion in life is to inspire others in whatever and wherever life may take me and to use my platform to positively impact others.