Name: Ellie Nusbaum 
Pronouns: She/her   
District: Nebraska-Iowa  
Key Club name: Ames High School 
Year in school: Senior  
 Clubs or activities outside of Key Club: Central Iowa Honey Queen, Bee Club co-president, involved in dance marathon, varsity golf, Harrison Barnes Reading Academy tutor  
Why did you join Key Club? I had heard of Key Club's outstanding reputation within my school and knew I wanted to serve my community.  
Past Key Club International leadership experience: Previously, I served as the vice president for Ames High School and on my district board as editor and chair of our promotional committee.  
Why did you decide to run for the international board? I believe it is the best way to make a bigger change in Key Club. During my time as a school officer and on the district board, I saw what needed improvements and tried to find solutions. Now, as a trustee, I can accomplish these goals.  
What are you most looking forward to this year? Working with the Key Club International Board to accomplish our goals after the hardships of COVID-19.  
What do you like most about Key Club International? The unity Key Club brings to a variety of students through their common passion for service.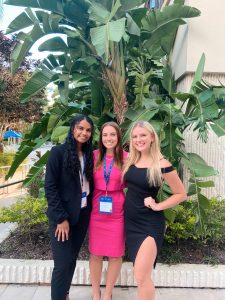 What is your favorite Key Club memory, and why? My favorite memory was attending the Summer Leadership Conference this past summer. This was the first event I was able to attend in person after COVID-19, and I had an amazing time meeting new people. I love being able to attend Key Club events such as this because it brings people from all over who can bond over this organization.  
Miscellaneous Information  
What is your career ambition? An orthodontist  
Hobbies outside of Key Club: Beekeeping, reading and paddleboarding 
Favorite movie or TV show: Psych  
Favorite book: Lord of the Flies  
Favorite food or snack: Sushi  
Favorite animal: Golden retriever  
Somewhere you would like to visit in the future: Italy  
Do you collect anything? Travel postcards  
What is something people may not know about you? I am a beekeeper!  
What is the best advice ever given to you? Be proud, but never satisfied.  
What did you want to be when you grew up? A veterinarian