Name: Subashree Venkatasubramanian.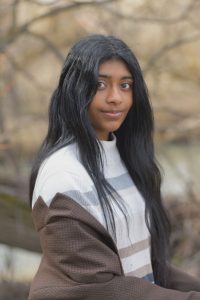 Pronouns: She/her. 
District: Pacific Northwest. 
Hometown: Pullman, Washington. 
Key Club name: Pullman High School Key Club. 
Year in School: Senior. 
Clubs or activities outside of Key Club: I play tennis, and I do Bharatanatyam, a classical Indian dance. I also am involved in my school's Youth In Stem club, where we teach kids about STEM and do fun activities with them. 
 Key Club questions 
Why did you join Key Club? My parents run a charity dance organization called Sudiksha and growing up I've always participated in our annual benefit concerts, so the values of giving back to my community have been instilled in me from a young age. Because of this, I decided to join Builders Club in middle school and went on to join Key Club in high school to continue my passion for community service. 
Past Key Club International leadership experience: 2019-20 club vice president, 2020-21 Pacific Northwest Division 56 lieutenant governor, 2020-21 Pacific Northwest Division district board, Kiwanis Family Relations Committee chair. 
Why did you decide to run for the international board? I wanted to broaden the horizons of my service within this organization. Key Club has allowed me to make sustainable change within the communities that I serve and to improve myself as a leader. I wanted to continue to grow and improve myself while also expanding the impact that I could have on my fellow Key Club members. 
What are you most looking forward to this year? I'm looking forward to building strong connections with like-minded individuals across Key Club International. I'm so excited to work with everyone and meet new people. 
What do you like most about Key Club International? I love how our organization is always finding new avenues for growth. We faced a serious membership crisis last year due to the pandemic, but we are finding new, innovative ways to restore our strength by being collaborative in our efforts to rebuild. This perseverance and dedication that is shared by all Key Club members is my favorite part of our organization. 
What is your favorite Key Club memory and why? This past year, my home Key Club did a virtual service project in which we wrote letters to our city on why they should not defund our library. It was a cause that really hit close to home, and the fact that we could still support such an important cause through the virtual medium showed how effective virtual service can be. 
Miscellaneous information 
What is your career ambition: My goal is to found my own company and become a CEO. 
Hobbies outside of Key Club: Tennis, dance, drawing, painting, doing henna. 
Favorite movie or TV show: "101 Dalmatians." 
Favorite book: Any Percy Jackson book. 
Favorite food or snack: Cheddar Jalapeno Cheetos. 
Favorite animal: Penguin. 
Somewhere you would like to visit in the future: I want to visit Europe, especially France, and try authentic French cuisine. 
What is something people may not know about you? I did CrossFit for a year in eighth grade. 
What is the best advice ever given to you? Treat people how you want to be treated. 
What did you want to be when you grew up? Working in a start-up somewhere in California. 
Anything else you want to share: I love taking naps in my free time! I am a huge advocate for napping and can sleep in basically any place/situation.