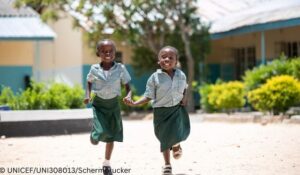 Key Clubs have been fundraising through Trick-or-Treat for UNICEF for decades, and this year you can get creative and have fun while raising money and awareness for Start Strong: Zambia.  
You don't have to wait until Halloween to kick things off. Before the event, raise awareness among your members about our partnership with UNICEF by going to the Start Strong: Zambia webpage. For all your Halloween events, ask for a donation to Start Strong: Zambia instead of candy or an event admission fee. People can give online at the webpage or with cash. Use these fundraising ideas as inspiration: 
1. Put some meaning in your trick-or-treating. Go door-to-door on Halloween night using our downloadable canister wrapper or decorate your own collection box and ask for donations instead of candy. You can also help your community's Builders Club by taking them trick-or-treating too.
2. Host a costume or pumpkin decorating contest/party. Use a community center or school parking lot — or go virtual and host the party online. Invite Builders Clubs to attend so you can celebrate and raise awareness together. Ask guests to make a donation to Start Strong: Zambia.
3. For a bigger impact, host a school- or community-wide Trick-or-Treat for UNICEF event. Invite local organizations to display a table with Halloween-themed decorations, jack-o-lanterns and candy to distribute. Charge a small admission fee or ask for a donation.
4. Before Halloween, prepare special message cards and personally deliver them to students before or after class. Make it a fundraiser by collecting a donation for each message. Some clubs get creative with the season and call these messages boo-grams!
5. Penny wars. Every day during October, man a table in the lunchroom. Place one jar for each grade level on the table and ask students to fill their grade's jar with pennies. The class with the most pennies on Halloween wins a prize. Anything other than pennies will count as a negative, so ambitious students can "sabotage" rival classes by dropping dollar bills into their jars.